Announcements | 2 Minutes
Have you heard about Phonics Museum Kits?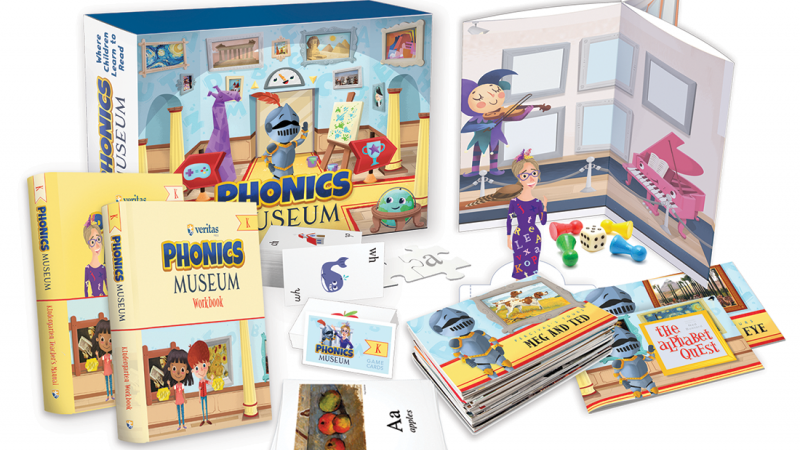 Did you know that before there was a Phonics Museum app, there was a Phonics Museum kit to help teach your children to read?  That's right! The idea for the kit originated from a book entitled The Alphabet Quest (it is included in the kits). This book is where William and Percival first met!  They met at an art museum. Does any of this sound familiar? If you're at all familiar with the Phonics Museum app, it should!
Boy oh, boy, do I have some news for you about the Phonics Museum kits.  Yes, that's right - there is more than one version of the kit. We have a kindergarten kit, a first grade kit and while supplies last we also offer a combo kit - it includes the materials needed for both kindergarten and first-grade readers!  
We're so pleased to tell you that we have released a new version of the kindergarten kit!  In the new 2nd edition of the kit you'll find: 
It has been updated to look and feel like the app. 
It is in 4-color and the worksheets use the artwork as it appears in the app. 
New and improved primers. 
Why did we redo the primers?  Because of feedback from parents indicating that the language used in the old primers was a bit too hard for younger readers to understand.  The new primers have been very well received by both children and their parents! 
Why am I telling you about the new kit?  Because the app and the 2nd edition kit work well together and because ideally a parent or teacher would us both of them in tandem when teaching a child to read.  The offline and online interaction, engagement and repetition of familiar teaching tools are a great reinforcement for young minds!
Do you have more questions about our new version of the kindergarten kit or any of the other Phonics Museum kits or the app?  Please do not hesitate to contact our service department with your questions. 
Are you new to the Phonics Museum altogether?  Then we invite you to download the app and sign-up for a FREE two-week trial today!
I look forward to seeing you at the Phonics Museum, where together we can teach your child or student to read in record speed!
Warmly,
Miss Biddle